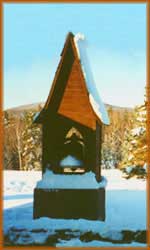 The Benedictine Monks of
Weston Priory
Highlights From the Fall/Winter 2004 Bulletin
Poetry Selections
| MORE FROM THE FALL/WINTER 2004 BULLETIN |
---




COSTLY GIFT



The world spins, whirls
in oval procession around the great fire.
The world spins, whirls
in one continuing act of being born.

Earth spins. Yet,
in the heart's deepest recess
a shudder disturbs our sleep.
Is earth spinning—out of control?

Were woman, man, flesh and bone, blood and breath
made for this—
roar of guns, fire of a different sort,
the slaying of Abel renewed in endless compulsion?
The city of God in ruins?

With trembling hands, we lift this fractured globe in prayer.
What, we ask, has become of the Wondrous Exchange,
the wedding of heaven with earth,
God with us,
spirit with flesh,
friend with foe?
Has even this strayed from its orbit?

Suddenly, during our night-turning,
in this blood-soaked world of Cain
(Bethlehem is here or nowhere),
hope's promise is born again,
Christ, Sun of Justice,
a meteor forever flaring among us
in an exchange of gifts more costly
than we can imagine.
A Fire no darkness can extinguish.
O admirabile comercium! O wondrous exchange!
- Brother Philip
---
WINTER KOANS

Winter is
cold
we
sense
how
bold
underneath
all
it
holds
a green river
runs
even beavers
cannot
control



- Brother Columba

---

Full
moon
on a
winter's
nite
bends
needles
of
a
balsam
tree



- Brother Columba
---
WATCHING
Watching this November sky
Turn itself to marble white,
And the chilling wind
Play among the fallen leaves,
To turn this dull day
Into a dance, and, as if to say
Goodbye to the fickle summer,
I follow the lead of the happy leaves
And feel safe to let go of time
And to sail with the gusts of wind
Into what this next fall day of waiting
Will bring.
- Brother Augustine
---
A CLEAR EVENING
On a clear evening, in early winter,
The warm sun, with its brilliant
Reflection upon the first snows,
Has set,—and left
An orange-red glow
Above the stilled trees,
As if to speak of what has passed,
And more,—to hold our hearts
In waiting for what is still to come.
---
BLOOD-RED-ROSE
From distant darkness
far beyond our knowing
darts a star
across the horizon of our lives
a light like a blossom
that blooms and fades;
a light that dies
and rises again
from beneath the frozen snow of destiny
of human love and hate and fear;

A one-time gift
that never fails
to reappear;
that once-for-all-rejected
offers itself
again and yet again.

Blood-Red-Rose
cut from stump and stem
of Jesse's tree—
God's Gift set free
for all humanity.

From far beyond the stars
and cosmic dreams;
from farthest reaches of space and time,
your word is sent, O God,
to set our hearts ablaze
to turn another page
of history.

We the deaf the blind the lame,
the naked and the homeless;
we wait again and yet again
to hear your healing Word of Peace:
Emmanuel.
- Brother John
| MORE FROM THE FALL/WINTER 2004 BULLETIN |
---

The Monks of Weston Priory
58 Priory Hill Road, Weston, VT 05161-6400
Tel.: 802-824-5409; Fax: 802-824-3573