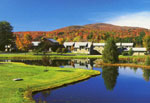 "The intuition of Benedict was to establish a "loving and critical" dialogue with the world from the perspective of the Gospel and the radical option for Christ. In this sense, the monastic life appears from its origins both as an Exodus, that is, a "no", a prophetic critique of society, and as a committed Incarnation, a loving "yes" to this same human society."
--Simon Pedro Arnold, OSB



Fall-Winter 2006 Bulletin
A Selection of Poetry
November Sky
This drab, milky November sky
Cannot hide the beauty
And mystery of Autumn-
The transformation of life
Happening before our eyes,
And that brings me to the window
To wonder-was that a leaf
Or a bird that swept by-
And maybe it was
The falling leaf that
Taught the bird to fly.

- Brother Augustine
---
In Passing Over
As upon the wooly, thick skin
Of a large mammal in hibernation,
I look down upon this brown,
Wooded, winter earth,
Speckled with patches of snow.
From high in our safe, passing isolation,
I long to touch her sleeping body-
To console for the wounds
We easily inflict without thought.
- Brother Augustine
---
---
58 Priory Hill Road • Weston, VT 05161-6400 • 802-824-5409 • Fax 802-824-3573
Home | Contacting Us | Directions | Links | Prayer Schedules | Bulletin | Reflective Articles
Becoming a Brother | Retreat Accommodations | Monastic Living Experience
A Latin American Experience | The Gallery Shop | Shop Online
© The Benedictine Foundation of the State of Vermont, Inc. All Rights Reserved