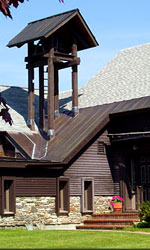 Monastic life, like all religious life, is above all a historical response and not a prefabricated model. The Spirit is constant and changing at once, like life, like history, and we must let it change us for this era. We ought not confuse stability with the rigidity of cadavers.
--Simon Pedro Arnold, OSB



2019 Fall/Winter Bulletin
Chronicle: June to November 2019
Weston Priory Bulletin, Fall/Winter 2019,
© 2019 The Benedictine Foundation of the State of Vermont, Inc.
---
58 Priory Hill Road • Weston, VT 05161-6400 • 802-824-5409 • Fax 802-824-3573
© The Benedictine Foundation of the State of Vermont, Inc. All Rights Reserved