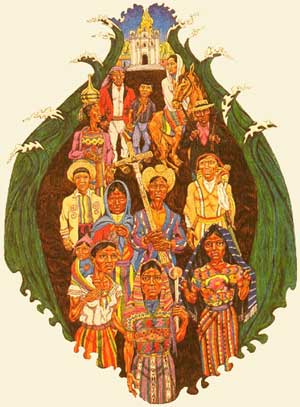 "Guatemalan Exodus"
by Stephen Leslie


Water is that fragile creature holding all things together. In its depths, it teems with life: nourishing, generating, sustaining, old and new life-forms together.
Its moving surfaces commune with the sun, lifting the waters to the heavens, to be carried by the winds in myriads of clouds.
The exchange continues as it descends as rain to water the fertile earth, bringing forth plants to sustain the lives of other creatures.
Humble, strong, limpid and flowing, water communes with all of creation, and, in that communion, begets and sustains new life.
The ancient symbol of living water has been a teacher to all of the world's religions, nourishing human life at its roots.
It connects us to the Source of Life which heals and unites. And today, water cries out in the name of a creation threatened with disaster, and calls us to enter onto new pathways in confusing and troubled times.
We find ourselves ensnared by ambiguity in our search for freedom, horrified by humanity's capacity to destroy creation in our very search for meaning.
Water becomes a sacrament of hope, offering a simple, gracious response that breaks the Gordian knot: all of creation is interconnected, as one family, called into a communion of respect, care, compassion, and cooperation.
Water reminds us that we will become free, and live meaningful lives, only if we embrace a common spirit which requires friendship with every living creature.