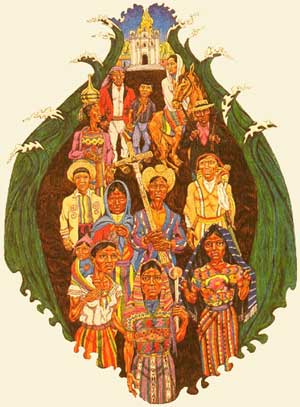 "Guatemalan Exodus"
by Stephen Leslie


Opening a new way to freedom, a new path to a genuinely new world order - "the Reign of God" - this was the heart of the life and message of Jesus of Nazareth.
He does not call us to conquer the waters, nor to abuse the waters in order to conquer others, but to enter the waters to become one with the waters of Exodus.
The baptism to which his followers are called is a baptism of repentance and Spirit - a turning to a new way of being in the world, a new way of seeing the world and of relating to it.
The waters of Jesus' baptism do not lead to a conquering of a promised land, but to a new way of being human, sharing together in the Reign of God.
His pathway to freedom is a process of becoming non-violent as persons and as a people.
It is a way of compassion for all persons, especially for the poor, the suffering, and the oppressed.
The new pathway is a way of graciousness in place of coercion, of forgiveness in place of vengeance, of simplicity and sharing in place of inordinate consumption.
Passage. Passover. Jornada. Hadj. Exodus. We have crossed many waters in our long human search.
From the history of those crossings springs an invitation to create a wholly new world order in our time.
From humankind's religious traditions, we receive the divine promise that such a new world of communion and justice is possible; to build it is worth all our effort.
For Christians, this invitation and possibility are embodied in the waters of their Baptism.
It is a long journey, an exodus possible only in the company of sisters and brothers who share the same dream - and who, while walking together, discover the ground for their hope.