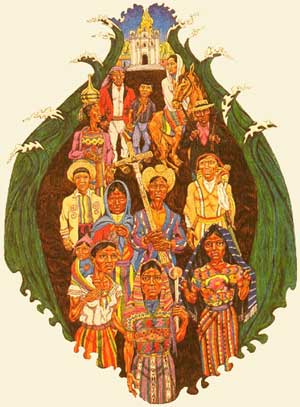 "Guatemalan Exodus"
by Stephen Leslie


The long journey to freedom is ours, too. The wonder and pain of Exodus is occurring all around us: in poor people demanding justice; in women claiming their dignity; in persons with AIDS continuing to love and to care.
So many of these Exodus-persons have touched our life as a community.
They have reminded us that, if we choose, a Passover can happen with us as well.
God, the "Seeker of Justice for all," continues to challenge whatever would cripple our common humanity, and calls us to risk a new beginning.
We know this too: like the ancient Hebrews in Egypt, like the African slaves in the Americas, our steps toward freedom will be carried forward by songs born of prayer, community, struggle, and hope.
We share these new freedom songs with you, songs born from our community's life and faith.
We hope that, as you sing them, you will hear the call to freedom in your own life, and discover the courage to respond.
Parting the waters, call out our names; lead us, God of our life.