One of the Psalms says, "Singing makes you happy!" The community of Benedictine monks at Weston Priory finds that not only does "singing make you happy," but singing also can express a whole way of life and, at the same time, can carry the message of that way of life.
As noted elsewhere in these pages, Weston Priory was founded at the edge of the Green Mountain National Forest in Weston, Vermont, in 1953 by Abbot Leo A. Rudloff of the Dormition Abbey in Jerusalem.
Members have come to the community from the United States, Canada and Mexico; they come with a variety of backgrounds and skills -- and each with a very different personality. But they all come to center their hopes and dreams around the gospel and spirit of Jesus.
Growing into a community is an experience of joy and sorrow, of searching, struggling, healing and hoping.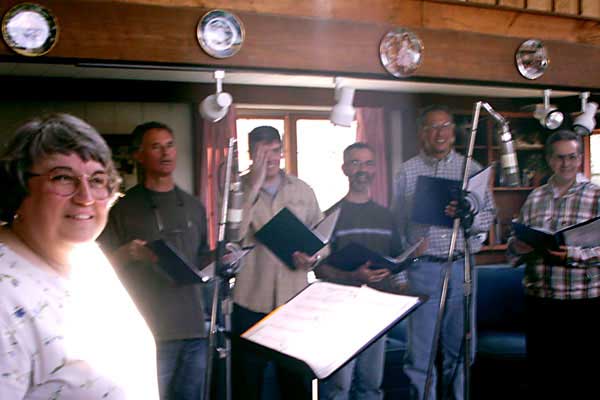 The music in these recordings grows out of the prayer and life experiences of the brothers at Weston Priory. The words of the songs are sometimes significant passages from scripture, sometimes poetic expressions of life situations, set to music by the brothers.
The entire community contributes to the production of this music. Coming from field, garden and forest, from craft shop, kitchen and office, each brother lends voice and spirit to these recordings.
With the help and encouragement of many friends, these recordings have become a way of sharing the faith, hopes and vision of the community of Weston Priory.
It is the hope of the brothers that this music will become a source of peace, joy and healing for those who listen to it.
Most of these songs are available on Compact Disc, Many are supplemented with Song Books and Organ Books.
Order Our Music