Yet the most important material needed is not one you can buy, but is potentially within us. A prospective solar cooker needs patience and the willingness to keep trying.
Because the sun is so strong in Nicaragua you can cook anything in this box, but you can only cook one item at a time, and cooking times may vary with each day.
Is this realistic? Reflect on your answer to possible alternative energy. Did patience, simplicity, or doing less come to mind?
Maybe we need to put more energy into being human—which for us monks means a balance of work, prayer, and study. For us this question, when taken seriously, would mean radical changes!"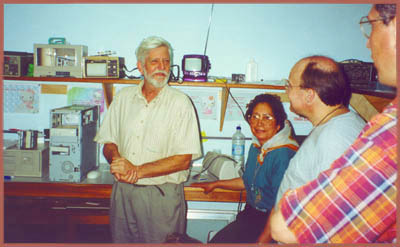 Dr. Richard Komp at Suni-Solar
On the main thoroughfare, just a few minutes' walk from the barrio, is the office of Suni Solar, a small solar energy business founded by Richard.
He explains his company's involvement in the research and development of alternative energy resources. The small company is providing employment for people from the barrio and bringing solar energy technology to remote and poor villages in Nicaragua. The sisters are represented on the board of directors of Suni Solar.
Back to the barrio
Returning from our visit, we walk along the busy street, musing about the promise of Suni Solar. What does it take to become a sign of hope in a desperate world?

The main thoroughfare of Managua is bustling with the traffic of aging vehicles and noisy with the honking of horns and blaring music from car radios. We encounter few pedestrians as our group of 14 brothers and four sisters make our way on the treacherous sidewalks of broken cement and gaping holes.

We turn left onto the dusty unmarked side street that enters the barrio, where some fifteen hundred people make their modest homes.

Sitting in front of one of the first dwellings is a short, friendly man of perhaps 60 years of age, dressed in the ordinary clothing of the neighborhood. He takes notice of everyone who enters. Everyone who passes by greets him and he offers a nod or a word of recognition. He waves to us too The sisters explain that he is the "security authority," paid by the people of the barrio. When there is a disturbance or conflict he is called on to intervene.

The unpaved street is dusty, narrow and bumpy, with rocks jutting out -- a typical street in this populous area. Here there are no sidewalks. The municipal authority promised to do something to improve the streets but nothing has come of it. Even the promise to send a truck to pick up refuse has not been kept, leaving it to the people of the barrio to do their best to keep their streets clean.

An occasional car parked on the street blocks the way for any oncoming vehicles. Small children scamper about the street. Stray chickens peck away at whatever they can find and skinny dogs scurry around silently rummaging for scraps of food.

A sign of hope needs patience and the willingness to keep trying. Yes, maybe we need to put more energy into being human.

Next: Laughter & hope in 'Barrio Loco'