Barrio Edgar Munguia 2001:
An afternoon with Sister Yerenia's friends
(ONE OF A SERIES )
The pervasive poverty that has for so long stamped life in Nicaragua is today compounded by a host of other social problems — symptoms of pain and hopelessness crying out for response.
Substance abuse has become a means of escape for many young people. Desperate youth join the violent gangs controlling many of the barrios.
But even in the midst of such conditions, there are young men and women who search for hope and different sort of companionship. Motivated by the Gospel, they come together to share the commitment of their faith.
Members of the youth group from Reparto Chic
One of the Benedictine novices, Sister Yerenia, grew up in one such barrio, Reparto Chic. Now preparing to make her First Profession as a Benedictine Sister, she has been a member of a group of committed Christian youth.
The young men and women who have been her companions are to join with us for an afternoon of sharing and Eucharist at the sisters' house in Managua. What would they be like, we wonder. Given all that they have already experienced in their young lives, what will they think of us, coming from the wealthy United States?
We are to be surprised and graced by our time with them.
In they come, with names like Wilbur, Marlon, Xochitl, Mary Lou, Sylvia, and Claudia. Some names strangely familiar, others completely new. Each name with a family history and story hidden within it. Some of the stories were sad and some were told with humor.
Marlon said that life in the barrio is terrible. Wilbur spoke of his work at the maquiladora — the long hours, the low pay, the drudgery of the work and the absence of hope for advancement. He was especially sad that he could not risk a day off from work to attend the religious profession of Sisters Yerenia and Carolina on the next Saturday — he feared losing his job.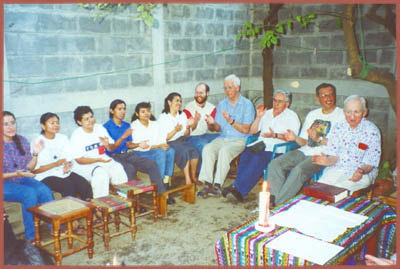 A joyful Eucharist with the youth group
Xochitl, who works as a secretary at the Jesuit University, is studying to complete her high school studies at the same time.
Claudia told us that, although she has a university degree, she has no work.