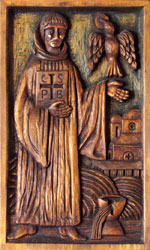 Schedules of Prayer at the Priory
Brothers' Retreat Days | Special Days of Celebration | Christmas 2018
Daily Common Prayer
Saturday
6:00 a.m.
Vigils
11:30 a.m.
Eucharist
2:00 p.m.
Midday Prayer
5:30 p.m.
Vespers
8:00 p.m.
Compline

Sunday
6:00 a.m.
Vigils
11:30 a.m.
Eucharist
3:00 p.m.
Midday Prayer
5:30 p.m.
Vespers
8:00 p.m.
Compline
Tuesday
6:00 a.m.
Morning Prayer
1:30 p.m.
Midday Prayer
5:30 p.m.
Vespers
8:00 p.m.
Compline

Thursday
6:00 a.m.
Morning Prayer
2:30 p.m.
Midday Prayer
5:30 p.m.
Vespers
7:00 p.m.
Compline

Monday, Wednesday, Friday
6:00 a.m.
Vigils
1:30 p.m.
Midday Prayer
5:15 p.m.
Vespers-Eucharist
8:00 p.m.
Compline
Brothers' Retreat & Quiet Times
EACH MONTH, the brothers set aside a few days for their retreat. There are also longer quiet periods for the community. Please be aware that there are no public celebrations of common prayer during the brothers' retreat and quiet times. However, the Chapel, the Visitors' Center, and the Gallery Shop remain open.
2018
November 13, 14 & 15 inclusive
December 11, 12 & 13 inclusive
2019
January 20 to March 3

(beginning after the 11:30 A.M. Sunday Eucharist on January 20, resuming the regular schedule with the 11:30 A.M. Sunday Eucharist on March 3)
March 26, 27 & 28 inclusive
April 23, 24 & 25 inclusive
Special Days of Celebration at Weston Priory
Our brother Robert Kiernan has died.
Memorial Eucharist and burial on Saturday, November 17. See more.
The Days of Christmas 2018
CHRISTMAS EVE
Monday, December 24
 
6:00 A.M.  
Vigils
1:30 A.M.  
Midday Prayer
5:30 P.M.  
Christmas 1st Vespers
8:00 P.M.  
Compline
CHRISTMAS DAY
Tuesday, December 25
 
6:00 A.M.  
Christmas Vigil/ Eucharist
 
5:30 P.M.  
Vespers
 
8:00 P.M.  
Compline
Wednesday, December 26
7:00 A.M.  
Morning Prayer
2:30 P.M.  
Midday Prayer
Otherwise, usual Wednesday schedule
NEW YEAR'S EVE
Monday, December 31
Usual Monday schedule
NEW YEAR'S DAY
Tuesday, January 1, 2019
Usual Tuesday schedule
58 Priory Hill Road • Weston, VT 05161-6400 • 802-824-5409 • Fax 802-824-3573
Home | Contacting Us | Directions | Links | Prayer Schedules | Bulletin | Reflective Articles
Becoming a Brother | Retreat Accommodations | Monastic Living Experience
A Latin American Experience | The Gallery Shop | Shop Online
© The Benedictine Foundation of the State of Vermont, Inc. All Rights Reserved