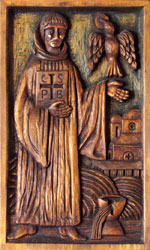 "Jesus asked them, 'What are you seeking?' They said, 'Rabbi, where do you live?' Jesus responded, 'Come and see!'"


-- John 1



What's New
Please note:
The brothers will be on an extended retreat time January 15 to February 26, 2017
(resuming the regular schedule with the 11:30 A.M. Sunday Eucharist on February 26).
Please be aware that there are no public celebrations of common prayer during this time. However, the Chapel, the Visitors' Center, and the Gallery Shop remain open.
The following sections have been updated as indicated.
58 Priory Hill Road • Weston, VT 05161-6400 • 802-824-5409 • Fax 802-824-3573
Home | Contacting Us | Directions | Links | Prayer Schedules | Bulletin | Reflective Articles
Becoming a Brother | Retreat Accommodations | Monastic Living Experience
A Latin American Experience | The Gallery Shop | Shop Online
© The Benedictine Foundation of the State of Vermont, Inc. All Rights Reserved